Vatican Admits Society of Saint Pius X Masses Fulfill Sunday Obligation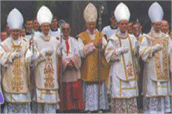 On September 27, 2002 , the Vatican's Ecclesia Dei Commission, in response to someone who asked about attending chapels of the Society of Saint Pius X founded by the late Archbishop Marcel Lefebvre, wrote in a letter that:
Commissio Pontificia Ecclesia Dei
Romae
September 27, 2002
Dear Mr. :
We wish to acknowledge receipt of your letter of 14 August 2002 addressed to His Eminence Cardinal Castrillon Hoyos along with the enclosures.
1. In the strict sense you may fulfill your Sunday obligation by attending a Mass celebrated by a priest of the Society of Saint Pius X.
2. ...If your intention is simply to participate in Mass according to the 1962 Missal for the sake of devotion, this would not be a sin.
3. It would seem that a modest contribution to the collection at Mass could be justified.
Sincerely yours in Christ,
/s/ Rev. Msgr. Camille Perl, Secretarius
Comment:
The Letter is only reasonable considering the fact that the New Code even allows Catholics to receive the sacraments from Non-Catholics:
Canon 844(2): "Whenever necessity requires or a genuine spiritual advantage commends it, and provided the danger of error or indifferentism is avoided, Christ's faithful for whom it is physically
or morally impossible to approach a Catholic minister, may lawfully receive the sacraments of penance, the Eucharist and anointing of the sick from non-Catholic ministers in whose churches these sacraments are valid."

Further more the Vatican also now admits, here and there, that the Society of Saint Pius X is not separated from the Catholic Church. Some one asked Cardinal Cassidy, who was Prefect of the Vatican's Congregation for Christian Unity, if his office should deal with the Society of Saint Pius X as a separate "church". Cardinal Cassidy commented in a letter of March 25, 1994, that the Pontifical Council for Christian Unity "is not concerned with the Society of St. Pius X. The situation of the members of this Society is an internal matter of the Catholic Church. The Society is not another Church or Ecclesial Community in the meaning used in the Directory." Thus the Vatican considers the Society of Saint Pius X to be an internal Church matter and not a group that is "outside of the Church".